German Shepherds Segen and Baby on Another Trip.
by Barbara J F Charest
(Fall River, Ma. USA)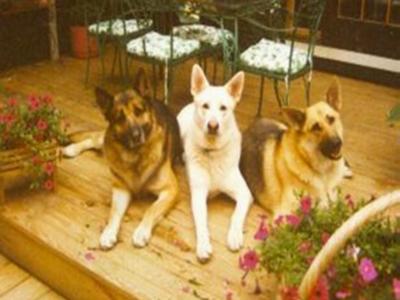 My Furkids, Baby Bear, Chip, and Segen.
My devil dog Segen (German word for Blessing) excaped another time, this time taking Baby Bear with her. This time it was early in the day. We searched and searched, to no avail.


I called the police department and dog officer, to be on the look out, which was a weekly sometimes daily call. She was like Houdini.
I received a call from the Police Department about 9pm telling me they had found the dogs. They proceeded to tell me, they received a call from a young couple.
They saw the dogs running around the highway and were concerned they might get hit by a car, so these two Angel people stopped the car and the girl got out and called them.
Of course they loved car rides, little did she know, so they came running, ran right by her, and jumped in the car. The guy, her boyfriend nearly had a heart attack. Baby was 135 pounds, and Segen 113.
My furkids, both jumped in the back, and sat there probably thinking "great, car ride" They were so scared and drove to a pay phone where they called the police to tell them the dogs were in their car.
The dispatcher asked what kind of dogs they were and when she said German Shepherds, the dispatcher said, Oh we know those dogs, just wait right there and we will send a police cruiser to get them.
I was called right away. They came home in the cruiser. I think they slept a whole day. Miss them so much. I am including a picture of them with their son. Baby Bear is on the left, Chip is in the middle, and Segen is on the right. thank you again
Total German Shepherd
:
What a great picture of your "fur kids". I really enjoyed reading your story - thanks so much for taking the time to come and share it with all of us here. Sounds like they definitely keep you on your toes. But that's always fun too, huh? Continued success with your crew.