Got any gsd - cat pointers?
by mycah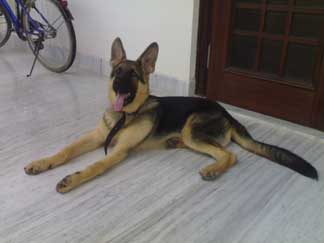 i recently adopted a gsd. he's been abused and seems a little skitteish he's good with kids and doesn't seem so good with my cats.
incredibly stubborn with leash training. i got him because my husband is gone on deployment.
he's already lightened up and started wagging his tail and sliming my hand. i know about how to feed as far as an alpha standpoint.
could you give me some pointers to put him at ease with my cats ??
Total German Shepherd
:
Unfortunately this is one of those things that will take a good amount of time. And training. For both your new German Shepherd family member - and the cats.
First of all patience - you will probably need plenty of this, and depending on how skittish your cats are around the dog, that will cause a problem too - especially if they tend to run which will make the puppy want to chase - whether it originally intended to or not.
Good for you on rescuing the German Shepherd puppy though, treat him well, be patient and with time he will make you a good pet but if I were you I can't suggest it enough that you both take a dog training class together - it'll be the best money and time you ever spent on helping you to bond with him. Not to mention all the socialization aspects.
I would suggest the training class to help you both but also to help you gain more control of him especially where the cats are concerned. This would be my first suggestion - after that, ask your trainer for more suggestions about the whole dog cat issue since I am not a dog trainer by no means. But good luck with your new baby.