GSD 9mths old.. First heat & has started to bark for the first time.
by FJF
(Co. Durham, UK)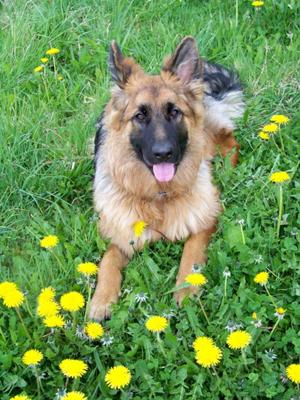 Hello.. Our GSD Puppy has come into her first heat last Wednesday (30.06.10). Since collecting her at 9 months she has been great with other people and all dogs even ones that were funny with her and she never ever barked.
A few weeks before this 1st heat she started barking initially in her sleep and then more frequent. When I am walking her and she sees someone 50% of the time she now barks and if its another dogs always barks and seems a bit I dont want to say aggressive because she is so soft but it does look a bit that way.
I do try my best to control her but she will not walk away. This morning when we left the house as soon as I opened the door she started barking and I could then hear another dog bark back, as we got outside she stopped.
This is my first GSD, I have always had Spaniels soo different however I would never go back now but I am trying to read up & understand her as much as possible.
I am thinking that she is maybe protecting her area or calling for boys.. & I hoping that the barking may cease after this heat. Although she is barking away for the area too.
Please could you give your opinion on this and if it is not for the reasons above please advise the best way to encourage her not to bark.
Many Thanks
FJF