GSD and cats not getting along
by Bev
(Fredericksburg, VA)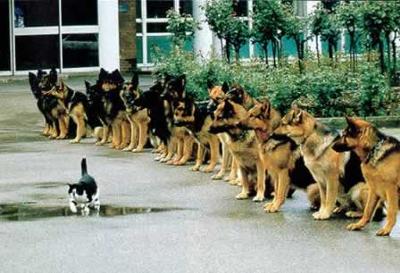 My 14 month old male GSD was raised in the house with cats. Now, all he wants to do is chase and grab them. They all hate him, and I cannot let him roam free in the house.
I have tried to numb him to them by having him on a leash and letting them walk around but he tries to grab them if I am not paying attention. He is pretty well trained as far as sit, wait, etc. But when a cat enters the picture he goes off.
I do not want (can't) find homes for all of my 5 cats, but I want him to be able to have more freedom in my home. We are in a manners training class now, but I do not feel this is helping.