GSD Barley
by Matthew Bush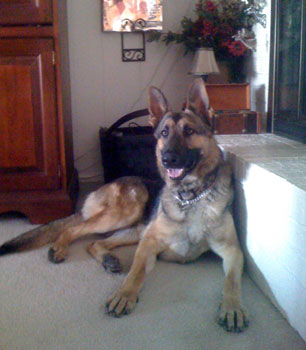 Barley is a 1 year and 6 month old GSD from Lubbock Tx. His official AKC name is BARLEY DER GROßE SCHLÄGER BUSH which means the "great slugger."
He is a very well mannered dog who loves to patrol the backyard along with stretching out on the couch to catch up on his TV.
As an owner I completely spoil him. I recently graduated from college and needed a companion to play with and have around the house.
He loves to play with tug-a-war with his rope along with fetch. Hopefully this summer we will try to go swimming in the lake. I hope this will make Barley your May GSD of the month!