GSD Promoted to USMC Staff Sergeant
by Amy O'Connor
(USA)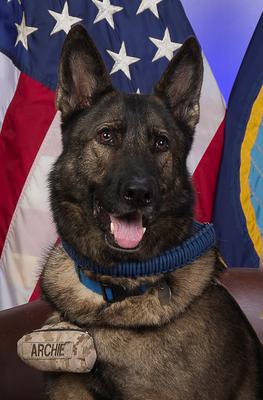 What a handsome German Shepherd
Hi,


Archie is a career changed "Seeing Eye Dog" given to the Walter Reed Bethesda for the care and comfort of the patients and families. He works 3-4 days a week at the hospital and He lives with Amy and Kevin O'Connor.
He was recently promoted to USMC Staff Sergeant.
Amy O'Connor
Total German Shepherd:

Hey Amy,

Thanks so much for sharing the details of Sgt. Archie's current promotion with us all here at Total German Shepherd. What an honor for him and for you all too - and I am sure one that is well deserved.

He is one handsome fellow and that picture is nothing short of beautiful!! Wow!

Please keep us up on how he is doing in the future too. We love hearing from you on how well he is progressing and helping others in his job. And I am sure all the military families love him dearly too.

What an exceptional dog and a fine example of the German Shepherd Dog breed. Thanks again for sharing a little about him and his story.