GSD puppy tail
by JSwarts
(TX)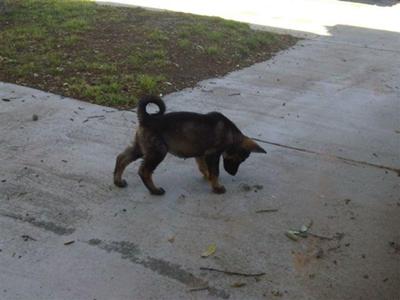 My little girl Austin
Hi, I just recently got a GSD puppy (8 weeks old. It looks like a GSD in every way, except its tail. Is it normal for it tail to curl so much? If so, when will it flatten out? Thanks :]
Total German Shepherd
: Well, I can honestly say that I've never seen a German Shepherd Dog or a German Shepherd puppy carry it's tail quite like your girl.
Did she grow up around Pugs? Basenji? Maybe even a Malamute? (Just kidding :) )
German Shepherd tail carriage
is very indicative of many things such as status, but even so, this is a new one on me.
I don't know if any of the other readers have any experience with this but typically German Shepherds carry their tail out from their bodies - almost like a sabre - fairly straight but with a curve in the middle of it. Not curled up over their bodies like a Pug or Basenji.
Sorry I can't be of any more help about the tail carriage of your puppy but I can assure you that this is not
normal tail carriage for a German Shepherd
.
She is as cute as a button though! If you're happy with her and if she's happy and healthy, ultimately that's all that matters anyway. Good luck with your new
German Shepherd puppy
.