GSD with addisons - any suggestions
by cheryl
(chicopee,mass.)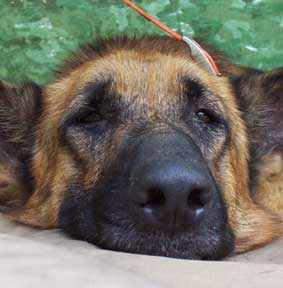 my gsd is 5 yrs old. he was diagnosed with addisons last year. he is on prednisone 5mg, and fludrocort 0.1mg.
my main concern now is his fur. it still has not grown back where he had the IV last year, and he has no hair under his collar and feet. he has not shed one hair since he started on the meds.
i have no dog hair in my house, on a dog that is supposed to shed like crazy. and his appetite is through the roof,it seems like he is only interested in food.
we feel as if we saved his life for him only to be on a quest for food.any suggestions would be welcomed. thank you.