GSD Zeus' Story
by Cyrus & Marchelle
(Las Vegas)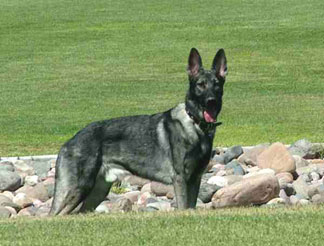 GSD Sable Zeus in park
Dear Friend,
Attached please find a photo of our beloved GS, Zeus. We rescued him about 7 weeks ago from Las Vegas German Shepherd Rescue.
He is about 18-24 months. He has come a long way since he met us first. From a shy and timid dog who did not even want us to look at him to a dog that wrestles with us on nightly basis.
We took this picture the other day when we took him to a park where he is starting to adjust to being outside and being happy again without being afraid.
Thank you.
With Highest Regards,
Cyrus & Marchelle
Total German Shepherd
:
Hi Cyrus & Marchelle. Thanks so much for taking the time to come by here and share your own personal German Shepherd story and picture of your beautiful German Shepherd Dog Zeus with us all here today.
And what a great picture of Zeus too. He looks so comfortable and happy - just like he has just conquered that big old mountain and is now waiting for his next challenge. Beautiful, it is a great photo of Zeus. Nicely done - he so handsome!