Guess Where I Found My GSD At?
by Mary
(USA)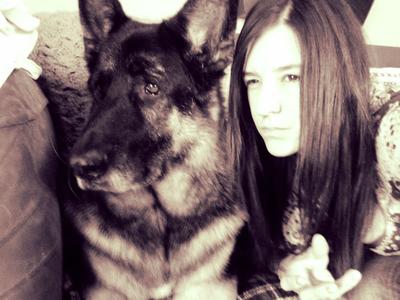 what a happy pair
I was searching for another companion in my life when I found Kody. I run across him on Craigslist for free, followed by some paperwork on him.


later on found out that his great great grandfather was awarded
the guard dog for the royal family for four yrs. Certain family
members were graduated in their masters degree/followed by
understanding the human language. once he said "No":0
He is at the age of reaching 12 years old and still very active. He has seen me through the worst times and good. His height is 35+inches. length head to tail is 43+inches and weights 110. very strong blood line.
highly intelligent. and always on duty;) this is my choice of breed by far! People always ask where did I found him?! I once was told that I have a highly expensive dog, in the price range near 2,000 (starting price) .
money doesn't member with it comes to our relationship/bond that we have.;). I think when I found him someone above knew I deserved him.
I hope you enjoy my story of kody and wish you best of founding one that gives you the loyalty you deserve. love from Minnesota!! Mary:)