Hank
by Tonya Rubenking
(Urbandale, Ia , USA)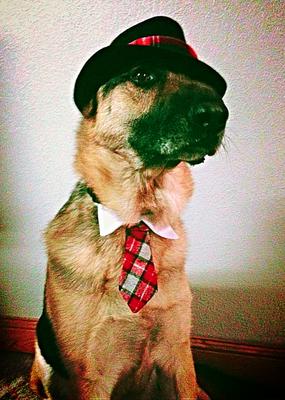 My Christmas Photo for 2016
MY STORY My family adopted me in 2010 because I needed to mend my moms broken heart and let me say I am doing a fantastic job.
I love to wait for food and let me explain what that mean. If there is something on the counter and I want it I will wait and stare at it for hours or until I get a taste or im told to go lay down.
I love belly rubs and laying in the sun. I am the master at making my mom laugh at me and braking every squeaker in every toy.
My mom can get me to do just about anything for a treat.
I also am a horrible bone hider lol.
I do not play fetch!
And I don't like water because I'm made of sugar.
Join in and write your own page! It's easy to do. How? Simply click here to return to GSD of the month submission.
Sign up for promotions, news, discounts, and the chance to win prizes for you and your German Shepherd