Help - Does this pup look like a full blood german shepherd puppy?
by Branden
(Chicago)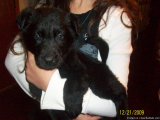 I'm about to buy her, the owner says its full blood but it has no papers. The owner says the parents are on site but I'm still cautious.

I just really want a black german shepherd and its close to where i live the price is 200.

Thanks a million attached is the dogs picture.