Here's My German Shepherd Bacci Napping
by Shanna Marie
(US)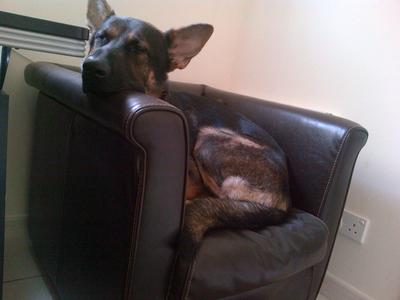 What a sweet pose!
HI This is Bacci getting an early afternoon nap ! He is too big for his favorite chair but manages anyway :)


Shanna Marie
Total German Shepherd
:
Hi Shanna,
Thanks so much for sending in this terrific picture of your handsome German Shepherd Dog Bacci. He looks somewhat comfortable in that chair. ;)
I don't allow my dogs on the furniture but my big fella eyes the couch none the less. I can just imagine him lounging about on it, all stretched out. If he ever finds the room empty he does get up there occasionally but we try to keep him off of it generally speaking.
We have beds laid out for them all over the house and that's his space! He knows whats going on and which bed belongs to whom, etc., etc. so it's not like he doesn't have a nice comfortable space to lounge on.
German Shepherds can certainly be couch potatoes - or in your case, a chair potato. Not everyone seems to know this one fact but indoor GSDs have no problem finding their favorite space to sleep for sure.
Enjoy your big baby and maybe sometime in the future you can send us in some more pictures of your German Shepherd. We'd love to hear how he's doing and what new things he is up to.