How can we get our German Shepherd to stop peeing and will she protect us or our home from strangers?
by John
(Yucaipa, Ca USA)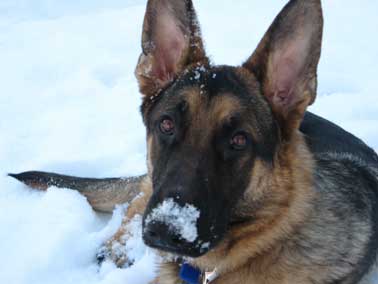 We got Bella from the shelter. She was 6 mo old. When we got near to her cage she growled and barked at us and we kind of liked her spunk, along with how beautiful she was. She's a purebred.


She seemed to be very submissive and at the same time a little aggressive. It seemed to us that maybe she'd been abused or something. When we yell at her to stop doing something, she pees and submits.
Now after almost 2 yrs, she has become part of the family. She is always on duty. She gets along well with our male lab of the same age and they constantly play, although at first our lab had scabs all around his neck from her bites.
The lab is a lot stronger and tougher dog, but she seemed to establish an agreement with him and now they love each other. My question is would either of them protect us?
Today we were gone and a guest staying with us went outside to have a smoke in the light rain and wore a hoody. When he came back in she barked at him as usual and when he came in the door, she just peed, then started to lick it up.
Total German Shepherd
:
It sounds as though your GSD is peeing submissively when you "yell" at her. It is fairly common in many dogs - not just German shepherds. Perhaps you're right and maybe she was abused or neglected as a puppy. And probably not socialized enough either as a puppy.
If I were you I would definitely get her in a do training class and especially work on exercises that will build her self esteem. You can ask your trainer for examples of activities and exercises that you can do with her. This might help with the submissive urination a bit.
And at your next vet visit I would definitely tell your vet about it too because it may even stem from a real "health" problem and not just a behavioral issue. You won't know for sure until you have it checked - and this is fairly common - especially females that have been spayed (it's called spay incontinence). And it can be treated with medication if this is the problem.
But as far as your dog protecting your home - who can say for sure because there are just so many variables involved? But if you have a good relationship with your German Shepherd and have established a firm bond, then I would say that chances are high. Good luck with your dogs.