How God Decided For Me: The Story of Max, My German Shepherd
by Larry Destino
(Miramar Beach, Florida)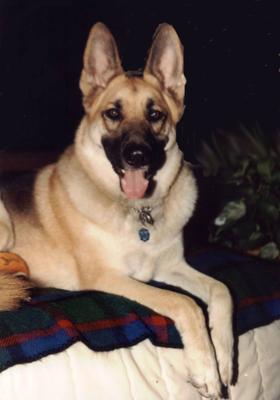 Max enjoyin my big bed
This is a most bizarre story! It is the clearest sign from God ever sent to me. I guess He decided what my direction in life should be...and not what I decided it was going to be.


Max Moocher Haus Nik
First, a little history. Over my life span I've owned four German Shepherds at various times: Moocher, Prince, Haus and Nik. All of them were great and loyal dogs; they were all males.
I love GSD's and they are the only breed I ever want to own. But when my last one, Nik, had to be put away when I was 58 years old, I said "no more." I decided I no longer wanted the responsibility of watching over another GSD, and spend my time instead traveling all over the world. But I guess God had other plans for me.
I lived in the Chicago area at the time, and after my wife passed on I became a confirmed bachelor (finding GS's more compatible and loyal than the gals I met on the dating scene). Anyway, for two years I traveled extensively throughout Europe and Asia, and visited friends in other parts of the country...mainly in Florida during the miserable Chicago winters.
Then one August day between travels while home in Chicago I went on a long bike ride through the various forest preserve areas outside the southwest city limits. On one of my favorite trails I noticed that a new ramp was built over the highway and barge canal. Always the explorer, something compelled me to take the turnoff and see what new trails I could connect to on the other side. That's where it started getting really weird.
As I got to the top of the ramp and looked across the bridge, I noticed what looked like a pile of wet cardboard lying in the middle of the trail. As I got closer it moved--raising it's head to see what's coming. As I approached even closer it arose on somewhat wobbly legs to confront me. At that point I stopped, not wanting to challenge some kind of feral animal obviously in some kind of distress. I wondered if it was hit by a car as the trail adjoined a rather busy highway at that point. In any event I did not want to aggravate an already tenuous situation.
I was in a 'No Win' situation. I couldn't get past this potentially dangerous animal and by no means did I want to turn back and leave an injured animal to suffer in this remote area. I had to find out more about it. I dismounted my bike and from my past experience with big dogs, I realized that if I crouched down I would be less of a threat to it.
I let it watch me for about five minutes then slowly crept closer--not knowing whether or not it would attack me. As I got nearer it turned and tried to jump over the guard rail that ran alongside the roadway...but I believe because of its weakened condition it just couldn't make it. And thank God it couldn't because it would have been killed by the high speed traffic, or it could have caused some major accident by motorists trying to avoid it.
I then saw that it was a GS--and a male, at that--in an obviously weakened condition. I had no choice but to approach him and keep him from trying to jump the guard rail. I was greatly relieved that he readily acquiesced to my direction and let me hold him until he calmed down without trying to tear my face off.
I was further relieved to see that he was not apparently injured. But he did look tired, dirty and hungry as though he had been living in the wild for several days at least. I was infuriated thinking that someone may have just abandoned this dog in the woods because it was too much for them to take care of. I just held him for several minutes without moving just to comfort him and re-assure him I meant no threat.
Then after he relaxed and laid down again I went back to my bike and dug out my two energy bars that I take along with me on my bike rides (thank God), and my water bottle. He drank half the water from my cupped hand, voraciously devoured the two energy bars, and lapped down the remaining water. But I could see that he was still very dehydrated.
I did not have a cell phone with me so somehow I had to get him to come with me on a mile, or so, hike to a nearby gas station so I could call my daughter to come and get us. The only thing I had with me that could be used as a leash was the cable I used for locking up the bike--not ideal for walking on the shoulder of a busy highway for a mile or so, but its all I had.
So I gathered up my bike, formed a loop with the cable, slipped it over his head and started trekking to the gas station...not knowing whether or not he would come along with me. But he did! He seemed to perk up and become livelier as we walked, apparently comfortable walking on a leash because he didn't tug or pull, just kept pace with me at a steady heel.
A couple of times along the way the cable slipped loose and came off, but he kept walking beside me anyway until I took notice, put the bike down and replaced the cable on him. I believe he knew he was being rescued from his pitiful situation.
Okay, to make a long story shorter, we made it to the gas station, got more water for the dog and called my daughter who, after about two hours, came to pick us up in her SUV. Being a GS lover herself she knew enough to bring along some doggy treats to feed our boy in distress. While waiting, we had a chance to get better acquainted and I discovered that Max (as he was so named later) was quite playful--seeming to be just emerging out of puppyhood.
After getting home we let him wander around my fence enclosed back yard while my daughter went to get some dog food for him. God only knows how long it had been since he had a decent meal. Fortunately I had the water and meal dishes left over from Nik, along with Nik's collar and leash (I couldn't bear to part with them. Now I know why).
He slept well that night confined to my laundry room, and the next day after a nice breakfast we took him to our vet to be checked out. The vet said he appeared to be about 18 to 20 months old and that although somewhat emaciated (he only weighed 76 lbs), he was in good condition. He had no collar on when I first found him and the Vet said he had no I.D. implant so we had no idea who he might belong to if he was a runaway.
The next week was spent posting "FOUND DOG" notices around the woods in the area, contacting police and sheriffs departments and running newspaper ads--all to no avail...which confirmed my suspicions that he was intentionally abandoned...especially when I discovered he had been trained to heel, sit up, and stay. I think some family just realized that he was just too much to handle as he got bigger and so they just dumped him. For the life of me I cannot understand how people can do that!
EPILOGUE: Max and I bonded! I could not bear to let him go. My daughters said that they would gladly take care of Max if I wished to continue my travels...and they did so on occasion. But I curtailed my foreign travels immensely and replaced them with domestic travels...with Max being my constant companion.
I eventually bought a large SUV to accommodate Max, and we eventually moved down to Florida because I could not deal with walking Max on those cold wintery Midwest nights. He is now 12 years old and weighs 115 pounds (all muscle). My whole life has been changed around since finding Max. I guess God wanted it that way.
Oh...and his name, Max...was decided upon by my French speaking daughter who came up with: Maximillion duPont Velo (Max of the bike bridge). I didn't want another dog but God delivered one (to my exact specifications) and he got me hooked again. How could I refuse such a clear sign from God?
Total German Shepherd
: Bless your heart, Larry, you are definitely one of a kind. You know it's kind of hard to see the monitor though tears?! Thank you for sharing your story with us all and also for what you did - and I do believe your Max was sent to you especially. Bless you and Max both!