How likely will my pup have a long coat, if so, will his ears be less likely to stand fully?
by Jennette
(Colorado)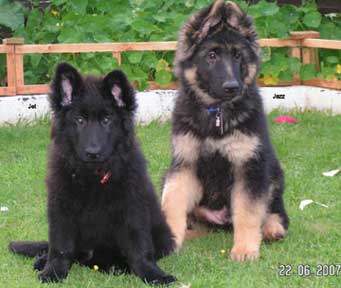 Hi,
My german shepherds had a litter of puppies about 6 1/2 weeks ago. Both parents have the typical german shepherd coat, but two of the puppies are little fluff balls and the other two have short hair.
Does this mean that the two longer haired pups will be long haired in adult hood?
Also, my major concern is that I have read that long coats have a more challenging time getting their ears to stand if they stand up fully at all.
I ask because the two pups that with long coats have not started to raise their ears and the two short coats ears are fully standing.
I am so concerned because the pup I would like to keep is one of the longer coats but I have never before and wondering if the rules are different:)
Thanks
Total German Shepherd
:
It's very likely that the little fluff balls will be coated German Shepherds. You will definitely notice more of a difference between the coated puppies and the stock coated German Shepherd puppies as they age - and also depending on how long the coated puppies fur really is since this can vary greatly from coated German Shepherd to coated German Shepherd.
You can read a lot more about the
coated German Shepherd
on this site as well. And now you know that the parents both carry the coat factor for future reference.
As far the ears are concerned, I've never heard anything about coated puppies and downed ears being a higher possibility than non-coated puppies having downed ears and I don't think that that is in any way true - because I've had both coated and non coated German Shepherds over the years an have not seen this to be true.
Basically ear carriage is based highly on genetic factors - just like the ability of one dog being longhaired and another not - among other things but there are things you can do if the ears are not up by around 4-5 months or so of age and you can read all about
German Shepherd Ear Taping
here.
So good luck with your German Shepherd puppies and send in some pictures some time if you get the chance. :~>