How to begin grooming for a reluctant older German Shepherd Dog puppy
by Rob Horton
(Warrenton, MO)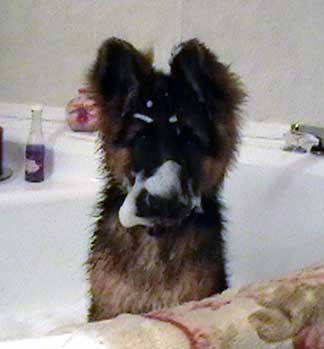 We have a two year old GSD named Storm. She's been with us from around 6 weeks old and she is our first dog. We love her dearly. I admit here that we have not always been the best at staying on top of the grooming though.
Brushing her is easy and she loves that but baths and toenails have always been difficult. I fear sometimes we just weren't consistent enough with it all when she was developing.
Its one of those things that since we've learned so much we say "if we had a chance to do it over" we'd be much better at it.
So. She's not a fan of having her nails clipped. And though she's IS a huge fan of playing in the hose outside, loves water, she is not a fan of bath time.
Does anyone have any advice on how to turn these two things around? I really want to be able to groom Storm and for it to be a very positive and enjoyable experience for her.
Thanks for any advice anyone has on this!