How to make my long coated german shepard stop scratching and chewing on himself
by Jodi Keep
(Machesney Park, IL. US)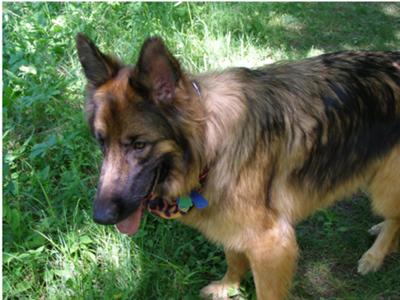 Leo not scratching himself!
My shepard scratches himself so bad he gets sores and bald spots on himself. My vet says he has allergies, I've changed his diet and nothing has helped.
His vet also told me to give him Benadryl 1mg/lb. So that means giving him 100mg everytime, I don't like giving him medicine, their has to be some other way, I brush once a week, and he looks beautiful to others but when I brush him I see all the damage he does to his own body.
I am forever telling Leo to stop chewing, biting or scratching himself. But he has to be miserable. I want him to be comfortable in his own skin.
I feel so bad for him, any help would be appreciated. He is 5 and each year it gets worse. It is worse in the winter so I have bought a humidifier for the winter months and it doesn't really do much for him. HELP!