I believe our GSD has epi
by Peri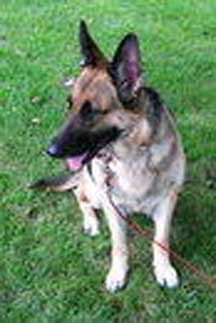 About a year ago a friend asked if we could take his 5 year old german shepard dog during his relocation to another home. Turned out he went into the service and we were stuck with a dog.


I believe this dog has epi as he has ALL the signs. My problem is that we cannot afford to have the dog tested nor can we afford the meds it will need. We would love to find a home for the dog is but feel guilty about giving new owners a dog with this lifelong problem.
My question is, can you tell me an over the counter enzyme and possibly what foods to feed him so that he can start to gain some weight. I don't want to have the dog pass away on us without trying something within our funds to keep him alive. Please help. I don't know where else to turn.
Total German Shepherd
:
I would definitely check out the page on
Exocrine pancreatic insufficiency
for more details on EPI so you'll have a better idea of the most common symptoms of EPI. There are many kinds of supplements available for it, unfortunately not really cheap, however there are also foods available (predone to help make EPI symptoms more easily cared for) that you might want to try out.
I would also talk to your vet about it and take in a stool sample for testing too - probably wont be as expensive as you might think - but once you know whether or not it is, or is not, EPI, then you'll have a better idea on what you need to do to take care of the dog in the best and most cost effective manner possible.
Either way, talk to your vet, that way you can describe what the dog is doing - and it may be that your German Shepherd has something else all together. Who knows until you have the testing done? Good luck.