I Have 2 German Shepherd Therapy Dogs
by Lydia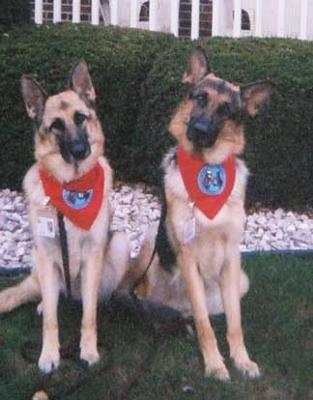 Hi, My name is Lydia. I have two German Shepherd Dogs and I couldn't choose a picture of just one of them. To me, they are both special.
This picture shows both Ekko & Zesty in their Therapy Dog uniforms (Therapy Dogs International, Inc.).
Zesty (on your left) is a six year old, female. Ekko (on your right) is a three year old, male.
They both have the most amazing temperaments. They LOVE people, children and even get along with other dogs.
They enjoy visiting nursing homes and school in their capacity as Therapy Dogs and are always willing to share their love and affection.
They truly resemble the definition of a well-bred German Shepherd.