I Love the White German Shepherd
by Terri
(US)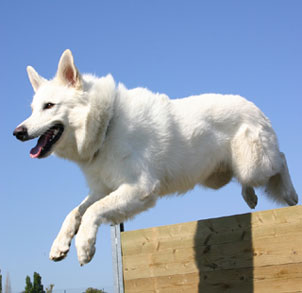 As a child my very first dog was a white German Shepherd named Casin (short for Caucasian) and I have been in love with the breed ever since.


The German Shepherd is an old and noble breed that is one of the most popular of today's times. Known as one of the most intelligent and loyal breeds they are often used as working dogs in the military and police work.
The white German Shepherds are not recognized by the American Kennel Club, but the black German Shepherd and the traditional saddle backs are. The white German Shepherds white hair is a result of a dormant gene just as the black hair of the black German Shepherd or the long hair of a coated German Shepherd.
The German Shepherd is highly trainable and is often used in bomb and drug detection as well as search and rescue and as cadavier dogs. German Shepherds were among the teams working at the 9-11 World Trade center ground zero site and helped to bring closure for many families.
The white German Shepherd has always been my favorite, I guess I have a soft spot in my heart because of Casin. The unequaled loyalty and intelligence endears people to the German Shepherd and creates lifelong love affairs with the breed.
My child hood friend Casin was by my side protecting me and being my loyal companion for years, helping to keep me and my younger brother out of harms way. My parents never worried about us playing alone in the yard as long as Casin was with us for they knew that we were as safe as a baby in its mother's arms.