In Memory of My German Shepherd Dog, Briggs
by Erin
(Ohio)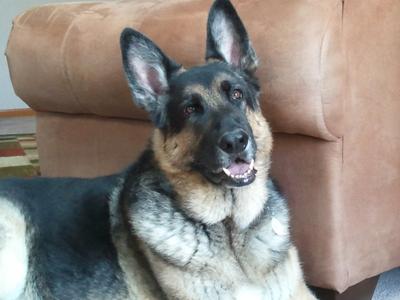 Briggs, My German Shepherd
I always have had a love for German Shepherds and had the pleasure of sharing my life with my sweet boy named Briggs. I lost him suddenly and unexpectedly to stomach cancer on February 24, 2013.


I never got to say good bye, but really how do you? I never got to thank him, but I know he knew how much he was loved. For all I have now are his memories, and there are many great ones he has brought to our family.
Briggs is sadly missed and there is a huge void in our home and hole in my heart. RIP my sweet boy
6/23/2004 - 2/24/2013
Total German Shepherd
: Hello Erin,
Thanks so much for taking the time to share a little bit of your story of your sweet Briggs with us all here. I am so sorry for your loss. The loss of a pet, family member and loved one is never an easy one.
If it helps at all, things do get better with time and your tears of pain will eventually turn into tears of joy and happiness with each memory that comes to mind. Your handsome Briggs will be a part of you forever more!