Introducing German Shepherd Rylee & Her 1st Litter
by Nikki Barry
(VA)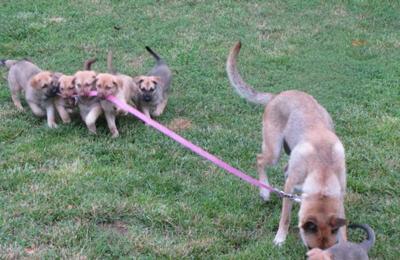 Hi my name is Nikki Barry and I'm going to submit 2 pictures.


The pictures are of my female Rylee and her puppies at 6 weeks. This was Rylee's first litter and she had 10 puppies. Rylee is a light cream & tan GSD with golden brown eyes.
Picture 1 – Rylee is looking up in this picture with a few of her pups holding or chasing the end of her leash. From top left: Mary Jane (black puppy), Bandit, Chaos, Mischief, Sienna, Rylee. Bottom right: Beau (closest to corner), Athena
Picture 2 - Rylee is looking down in this picture but it is adorable to see 4 puppies hanging on to her leash with Mischief running to be part of the tug of war.
From left: Bandit, Sienna, Chaos, Athena & Mischief running to catch on, Rylee and Gypsy.
I love your website!
Take care & have a great day,
Nikki Barry