Is it a REAL German Shepherd ...or Mix ??
by Marimar Lebron
(Arecibo,PR)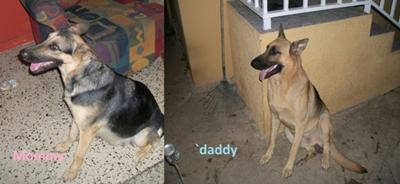 Parents
We are very exited! looking forward to having our first family dog very soon. Its very difficult to find this Breed were I live (Puerto Rico), after 3 months of searching, I found a breeder (online) who sent me some photos of the Parents oF soon to be born German puppies.
(Along with the breeders name, telephone number, and directions to were he lives).
They are beautiful dogs, BUT! they have really short hair and the photos are of them sitting down.. so I really need to ask an Expert to see if these dogs are truly REAL German Shepherd dogs or a Mix breed. thank You!!!
Total German Shepherd
: Yes, the dogs in the pictures are both German Shepherds but that doesn't necessarily mean that the momma and daddy of the
German Shepherd puppies
you are interested in are the same dogs as in the photos.
You definitely need to see the dogs and GSD puppies in person to make sure that they do match up since scams for people selling puppies of all kinds are rampant online. So be careful.
Concerning coat, German Shepherds often have short coats too. Please check out our
German Shepherd FAQ
to learn all you can about the German Shepherd before you bring one home.
And if you want to read even more about the breed I have written a book about German Shepherds you might want to check out:
"Your Total German Shepherd Dog, A Pet Owner's Guide"
And good luck with your new family dog.