Is my GSD having unnatural shedding?
by Hayley
(Australia)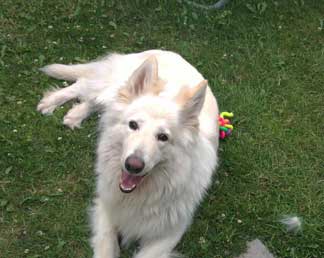 I have a white GSD. I know that the breed is a very, very heavy shedder but I'm not sure how the shedding starts.


I'm just a little concerned because he has only been shedding extremely heavy from the top of his back leg, near the tail base and around the rump area. I can't feel or see anything wrong with the skin or anything, but it's been his only heavy shedding spot for a few days, and it's the middle of winter.
Is there anything wrong with him or is this normal?
Total German Shepherd
hi Hayley,
If your white GSDs skin looks normal and he's not scratching or chewing in the area that the shedding is happening in then I wouldn't worry about it too much. It's probably just normal for him.
But if you are concerned, take your dog to a groomer or a vet just to have them do a quick checkup for you too of his coat. But overall it sounds fairly typical of most German Shepherds.
Get in the habit of grooming him outside, if you can, once or twice a week, even if it is only for five minutes and you'll get a lot of the shedding taken care of outdoors so that it won't be all inside your house.
Plus it will be a bonding experience for the two of you and will help you better assess your dogs overall health too since you'll literally have your hands all over the dog every few days so you'll know what is new and has changed from your last session. Good luck with your white German Shepherd.