Is our Sachmet a REAL German Shepherd?
by Thomas Rohan
(Reno, Nevada, USA)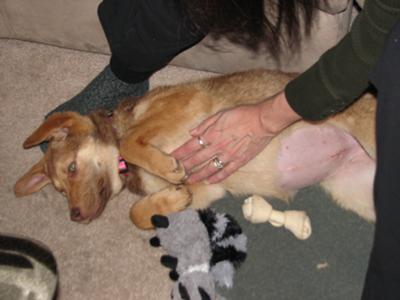 Hi there, my wife and I adopted a 3 month old puppy last week and she and her brother were identified as German Shepherd's. I personally saw her brother (he was being adopted at the same time) and his markings were classic German Shepard, but our "Sasha" is a "golden brown" with German Shepard lines, soft fur, and her ears do not stand up (she is only 3 months, is that normal?)


We of course LOVE her soooo much, but I would like a second "opinion", as we paid "more" to adopt a German Shepherd. I've attached some pix of her. She is super smart and a wonderful puppy and we'd like to know for sure.
She has been spayed and has 1/2 her shots and will be VERY, VERY well taken care of.
-Thanks
Thomas
Reno, Nevada.
Total German Shepherd
:
What a cute puppy you have there - I love the photo of her showing that fat belly - just makes me want to rub it! She's a beautiful and very pretty little girl.
By "real German Shepherd" I'm assuming you mean purebred German Shepherd. I hope I'm understanding your question correctly.
Well, I can tell you that, yes, there is some
German Shepherd
in there - just not sure if she's all German Shepherd as I do have some big doubts just looking at the pictures you've sent.
But looking at a real dog and at a few pictures are very different so I can't give you a 100% answer to that specific question but I'd say based on the pics alone, no, she's not a purebred GSD. But she is a gorgeous GSD mix.
And her coloration looks as though she's a sable, but I can't tell for sure from the pics alone - I'd need to look at her fur up close to know for sure. But here's some more info on
sable German Shepherds
for you to read up on to decide for yourself.
And concerning her ears, for her age that is fairly normal. They should come up (if they're going to) sometime by about 6 to 7 months of age but if they don't depending on genes and heredity, they may just not. Sometimes the ears just don't come up. But if you want to know about
ear taping
I do have some info on that within this site too.
All in all, your beautiful little girl is well on her way to being a wonderful companion. And good for you on taking the initiative to get her vaccinations and having her spayed. Great job, Thomas!
And in the end, all that really matters is that you've adopted yourself a fine companion and that she'll provide you both with years of joy. She is unique, a one of a kind and with the proper training will make you a great pet. Good luck with Sachmet.