IS THERE ANYTHING I CAN DO FOR MY SHEPHERDS SLIDING IF I HAVE TILE IN THE HOUSE?
by Emma Schou
(Cape Coral FL)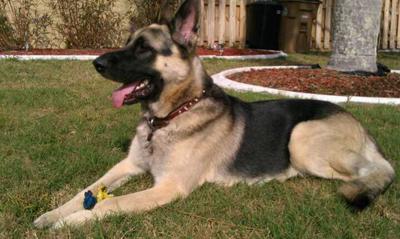 I am very worried about my German Shepherd King. I have tile in my home and he very frequently slides when he is excited.
He is a pretty big shepherd weighing around 115 pounds and he is just a year old. I know that the solution would be to get carpet but it is not that easy, and very expensive.
I just really don't want him to increase his chances of hip displaysia.
Pleasssse let me know if there is any other solution than putting tile in my home!
Thank you,
Emma
Total German Shepherd
:
We have hardwood floors in a lot of our house and my GSD puppy slides all over the place whenever he's in those rooms. Especially if he's in a hurry....
So we finally bought several carpet runners to put down in the more high traffic areas to help cut down on the sliding. And it did help a good bit with the sliding - until he decided he wanted to chew on the rugs....
Then we had to do training with the carpets so that he would leave them alone which took some time but he finally got it. Now we've removed the carpet runners since he's slowed down a good bit overall - though he still does it from time to time.
So you might have to consider a short term fix like this to your problem. It's not permanent but it does help until your GSD comes to learn to slow it down so it doesn't slide all over the house. Good luck!