Is this a German Shepherd Puppy??
by Dominic Luna
(Riverside CA)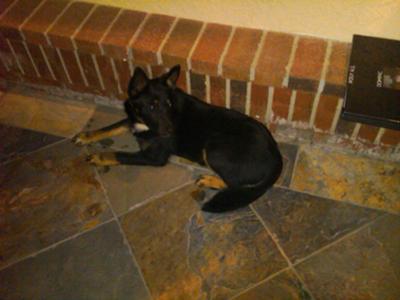 He has a white strip on the bottom of his chest.
I was driving home one night when i literly found this puppy sleeping in the middle of the road. As a owner of a GSD I couldnt leave him there.
I took him home and feed him and he gets along well with my GSD. DO you think he is a purbred GSD ???
Total German Shepherd
: It's really hard to tell from the picture - it's just so dark. But as a best guess he does look very "German Shepherd-like" from what I can tell. So..... maybe.
But if he gets along well with your other dog and you're happy with him - what does it really matter anyway?
You now have a wonderful new addition to your family and a great story to tell about how he came into your life. Good luck with your new German Shepherd and thanks so much for rescuing a dog in need.