Jakie the wonderful German Shepherd rescue!
by aj
(Santa Fe, NM)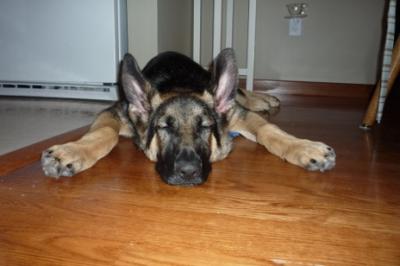 My daughter rescued Jakie from a verrrry busy intersection of two divided 4-lane streets in a large city. She got him over to a residential street and said to him, "Now you stay here. I can't take you with me now, but I will come back in 2 hours and get you.


He must have understood because he was still there when she returned.(He had no ID of any kind, no collar and tags, no chip). My husband and I were visiting from out of town--we had said 'no more dogs' but when Jakie came over and put his head on my knee and then slept in our room, it was all over.
I have had 6 other GSD's but all females. My daughter drove him to New Mexico for me. He was housebroken and crate-trained but had no obedience training at all. Also, he bolted when I first got him. We got him neutered and began his obedience training with a woman who trained for obedience trials.
He no longer bolts and waits at the door for me to tell him, "Free dog." I have had him a little more than a year and he earned his Canine Good Citizen designation a couple of months ago.
Everyone loves this dog--he has never met a stranger, loves everyone--4-legged or 2-legged. He is the calmest GSD I have ever had. I just talked to a woman in charge of pet therapy. She said as long as Jakie had his Canine Good Citizen award, she would just send me the application and the vet could sign off on it. I am excited at the prospect of doing this.
A small child ran up to him (a child he didn't know) and threw her arms around him--he just licked her face. I did a Rally class, not that I cared a thing about competing in Rally, but I know GSD's need to keep their minds active and he loves training.
Whoever had him before did not appreciate and take proper care of him. One trainer told me whoever had him did not deserve this beautiful, wonderful dog.
One more thing, when hears some classical music on the radio, particularly the Toredor section from "Carmen," he begins to howl like a coyote. So, Jakie is our singing dog...