Jessie, Our Black German Shepherd - all grown up
by Christine Edgecpmbe
(Melbiurne Australia)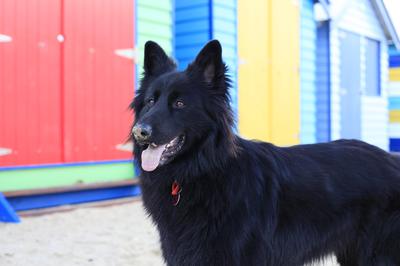 Day at the Beach - Heaven
Hello All - here is Jessie - Our Black German Shepherd, now three years old. Cannot believe the time has gone so quickly.


She has grown into a fabulous lady - full of life & love. Just loves going to the beach, playing ball or just hanging out with my Husband at work.
She is the most lay back & easy dog ever - loves everyone (not so keen on the cats)
Total German Shepherd
: Hey Christine,
Thanks so much for send in a little story all about your beautiful Black German Shepherd, Jessie. She is absolutely gorgeous!
And it is so wonderful to hear about how she has matured. Her temperament sounds to be superior (even though she's not a fan of kitties) ;) And the fact that she loves people and is active, that is fantastic!!
And I would love for you to send us some pictures of her at the beach if you ever get the chance in the future. Seeing her in that sort of setting has just got to be stunning I would imagine.
Continued success with her in the future. She is definitely a wonderful example of a Black German Shepherd - heck of any color German Shepherd for that matter. But she is absolutely stunning! Thanks for sharing her with us all here!