Jet, Our german shepard/bordie collie mix
by Tammy
(Greenwood, IN)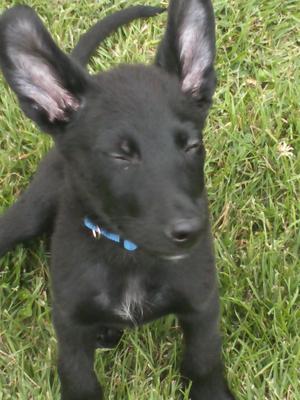 look at those big German Shepherd like ears
I got Jet when he was 8 weeks old. He has grown into a beautiful puppy. He is now 10 months old and I have had a wonderful time training him to be the loving puppy that he is.


He is not around a lot of people so he is jumpy when strangers want to pet him. He does like to play with the other dogs at the park.
Total German Shepherd
:
Hey Tammy,
I love the pictures you have sent of your new German Shepherd mix puppy, Jet. What a cutie he is. He is definitely one handsome young man.
I have seen a lot of GSD mixes in my time but never a GSD/border collie mix. So you better get ready because he was doubled up on brains when his parents got together!! LOL! He is bound to be an intelligent and probably a hyper little guy so make sure you find him plenty to keep his body and brain busy.
Training is key. Socialization is also so very important. I wish you nothing but the best of luck with him. Please feel free to send us some more information on him and how he's matured in the future. And pictures - send lots of pictures too!!