Just right!
by Lynn
(Virginia)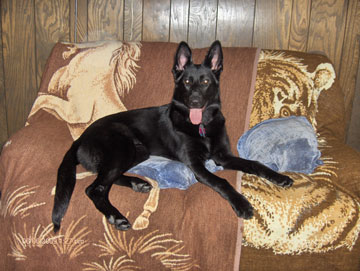 Elsie is a solid black GSD (spayed) and will be 1 year old 11/19/11. She fits into the chart perfectly. I ensure that she gets the best quality dog food that I can afford.
I've been feeding her Chicken Soup for the Dog Lover's Soul Dog Food, which is a holistic food, since she was a little pup. She gets a 30 to 45 minute walk daily and then lots of romping throughout the day with her best buddy, of all things, a Bassett Hound!
For her training treats, I make my own; dehydrated chicken breast jerky and dog biscuits. This way I can ensure no preservatives or chemicals. Her coat sparkles! She is my fourth girl over a twenty year period. There is no other breed to compare!