Kaiser my two year old black and silver GSD
by Linny Ortiz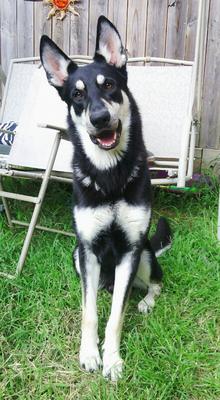 What a camera hog ;)
This is Kaiser my two year old black and silver gsd.. he lives to play dress up with his four year old human.. :) he also loves his squeaky snakes.


Kai is pretty unique. Not only because of his colour but he can pretty much make any expression you can imagine. This boy loves the camera.. ;)
Total German Shepherd
:
Hi Linny,
Thank you so much for sharing your handsome German Shepherd, Kai, with us. He is one beautiful GSD. His colors and pattern are lovely.
I rescued a German Shepherd myself about 2 1/2 years ago myself with almost the same pattern as kai only he is a reddish color where Kai is so light. And I don't know if I notice it more now because of my GSD, Rodie, but I seem to be seeing a lot more GSDs lately, with almost the exact same pattern.
I wish you nothing but the best with him and his 4 year old buddy. I hope they grow up to become inseparable and best of friends.
If you ever get the chance, send us an update on Kai sometime in the future, we'd all love to see how he is doing.
Thanks again!