Kole the Black German Shepherd Dog
by Mark Malloy
(Wilmington, DE)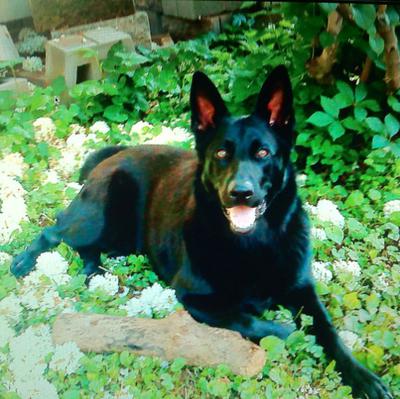 What a hnadsome Black German Shepherd Dog
This is Kole, he is a purebred german shepherd. Kole is all black and 108 lbs., he is now 5 years old.


I have owned german shepherds all my life and Kole has by far been the smartest and had the most personality. I got Kole as a gift for my father who was overcoming a serious heart attack, I wanted my father to have a best friend to be with him through his hard times now that he was forced to retire and had to stay home everyday.
Kole was there for my father throughout the hardest times of his life and now my dad is a small percentage of survivors with the type of heart disease he suffers from. He is living a happy life now enjoying it with his best friend.
However, Kole has also suffered from his own issues, he has overcome lyme disease at a young age and is now suffering from a degenerative eye disease known as pannus. My dad says since Kole was there throughout his tough times to take care of him it is his turn to take of Kole.
Despite these problems Kole is still the happiest dog in the world loving life everyday. He enjoys playing outside with his favorite toy a squirrel frisbee and running around, although now he wears doggles (dog sunglasses) to protect his eyes from UV rays.