Lars, My 6 year old, 120-pound Male German Shepherd
by Jennifer Bange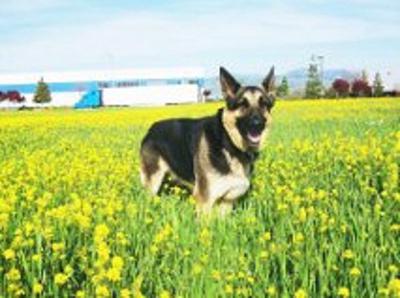 Lars, My Male German Shepherd
Total German Shepherd Dog:


My name is Jennifer Bange, and I am signed up for your website...
This is Lars, my 6 year old, 120-pound male German shepherd after tracking through the tall mustard flowers one afternoon. Lars has three titles in tracking and is able to track on grass and dirt.
We are members of the San Jose German shepherd dog club and are just starting to get involved with the Monterey Bay Search and Rescue organization. Lars is very skilled with his nose! He also enjoys agility and has his own tunnel, scaling wall, jumps, and teeter totter in my backyard.