Lars the Giant German Shepherd Dancing on His Treadmill - Video
by Jennifer Bange
(Hollister, CA)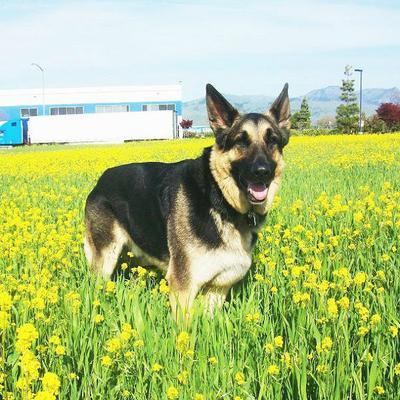 Lars the Big German Shepherd
When the weather is bad, or when I am very busy, I feel bad that I am not always able to get outdoors for a long walk with Lars, my 7-year old German shepherd.


His birthday was in January so I gave him a really special gift- an Extra Large doggie treadmill. He got the hang of the treadmill quickly, and I decided to get my own treadmill so we could exercise side by side.
I found that both of us would really get into a good rhythm on our treadmills if we listened to peppy music so here we are on our treadmills rocking out to some peppy tunes! My mother took this video one night when she was visiting, and I get such a kick out of watching it. Enjoy!
Jennifer Bange
Here is the video-
Total German Shepherd
:
Hey Jennifer,
That is fantastic. What a wonderful video - its so sweet to see you both exercising side by side like that and he's doing a great job on his treadmill too, just like you. What a great idea - especially when the weather is yucky!!
Keep up the good work Jennifer and I hope you and your handsome German Shepherd Lars have many years of exercising ahead of you both. And thanks so much for sending in the great video!! I really loved watching it and I imagine our other readers will too! :)