Liver Dog Recipes - Dog Recipes with Liver
If you're looking for Liver Dog Recipes, then you're in the right place, right now. Many people are choosing to cook for their own dogs now, especially after the whole dog food recall issues several months back.
Our offerings of homemade German Shepherd treats and recipes will be pretty complete with detailed steps on how to prepare and cook new favorite dog treats for your own German Shepherd.
Let us help you find suitable new dog treats for your dog to help improve their overall health.
Now we'll try to help you by offering several new dog recipes as often as we can. On this page we offer several liver dog recipes. Please check out the liver dog recipes we have to offer below and get as many as you'd like.
Please come back later and we'll add even more Liver Dog Recipes and other kinds of dog recipes as well. Enjoy making them for your German shepherd dog!
---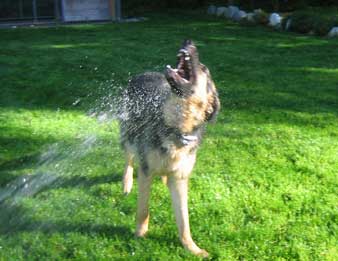 Lab Liver-Chip Cookie
2 cups Whole wheat flour 1/3 cup Butter -- melted 1 Egg -- beaten 6 tablespoons Water 1/4 cup liver -- dried or jerky-style treats -- chopped
Preheat oven to 350 degrees. Combine flour, butter, egg, and water. Mix well. Blend in liver bits. Turn onto a greased baking pan. Bake 20 to 25 minutes. Cool and cut.
Liver Brownies
1lb. chicken or beef liver ½ lb. PLAIN cornmeal (non rising) ½ lb. plain old-fashioned oatmeal 1 can salmon or mackerel (with juice) 1 Cup chicken broth or water 1 Tablespoon minced garlic 1 egg Dash of salt ¼ Cup parsley flakes
Place liver, egg, fish, broth, garlic, salt and parsley flakes in a blender or food processor and blend until smooth. Mix corn and oatmeal's, and then add liver mixture. Mix well. Once mixed, batter should be like a slightly wet brownie mix. Add more broth or water if necessary. Pour mixture onto well-greased cookie sheet and bake at 250 degrees for 1 ½ to 2 hours. Cut into squares while still warm. Cool, and then freeze what you won't use in 1 week or less.
Liver Treats
1 pound beef liver
All you need are beef livers. Try your local meat packers; they often throw them away. Or you can buy fresh liver from the supermarket. Cut the liver into approximately 1 inch slices.
Place in your food dehydrator for 24 hours*. Use Pam or the equivalent on the drying racks, so the liver won't stick. Let dry for 24 hours.
*Or you could place them on a cookie sheet and bake in a 325 degree oven for about 45 minutes to help dry them out.
Liver Treats For Dogs
1 pound beef liver
2 garlic cloves
1 Box corn muffin mix

Preheat oven to temperature in corn muffin directions.
Mix liver and garlic in a blender or food processor, then process till liquid. Stir in muffin mix, then scrape onto a baking sheet and pat to app. 1/2-1" thickness. Bake till very firm, but not burned.
Cut into squares, then store in refrigerator or freezer.
Lucy's Liver Slivers
1/2 pound chicken livers -- cooked
1 cup chicken stock
1/2 cup corn oil
1 tablespoon chopped parsley
1 cup powdered milk
1 cup rolled oats
1/2 cup brewer's yeast
1 cup soy flour
1 cup cornmeal
3 cups whole wheat flour
Preheat oven to 350°. In food processor or blender, process chicken livers, chicken stock, corn oil and parsley until smooth. Transfer to large bowl. Add powdered milk, rolled oats, brewer's yeast, soy flour and cornmeal. Mix well. Gradually add whole wheat flour. You'll have to use your hands here, kneading in as much of the flour as it takes to create a very stiff dough.
Roll dough out to 1/4" thick and cut into stick shapes, about 1/2" by 4" (depending on the size of your dog). A pizza cutter works great!Bake on ungreased cookie sheet for 20 to 25 minutes until lightly browned and crisp. Turn off heat and let biscuits dry out in oven for several hours. Store in the refrigerator.
Return from Liver Dog Recipes to Dog Bone Recipes


"Politics are not my concern... they impressed me as a dog's life without a dog's decencies." - Rudyard Kipling
Sign up for promotions, news, discounts, and the chance to win prizes for you and your German Shepherd