Losing my happy dog, my German Shepherd, Cutter
by Elaine Modlin
(Laurinburg NC, USA)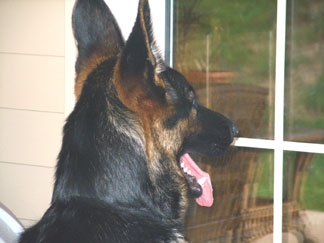 I lost my beloved Cutter suddenly last weekend from a still unknown illness. He was only 8 years old and full of life. It has been such a shock to lose him so suddenly and unexpected.
I have always thought of him as my "happy dog". He loved to carry one of my old shoes I had given him in his mouth every time I would first come home.
He would walk around me carrying that shoe and wagging his tail in excitement to see me. He seemed to be always smiling and happy- full of energy.
He had slowed down a little during the last year with arthritis of the hips and knees, but was still happy and active. He would get so excited when we went for our daily walks out in the pasture.
I had gotten Cutter as a rescue when he was only about a year old and will always remember him as my "happy dog". I love you Cutter we'll see you again in heaven.
Total German Shepherd
:
Let me say right up front to Elaine, Cutters mom, that I am so very sorry for your loss of your German Shepherd Dog, Cutter (what a great and unique name).
I am so very sorry for the loss of your wonderful pet - it is a shame you didn't get the chance to have more time together with him. But all your memories will stay with you and help you through this.