Love In A Short Time - Our German Shepherd Heidi
by Lana Alexander
(Watertown, NY)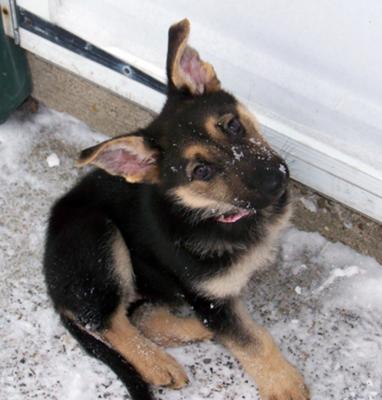 Several years ago as a teen, my family received our first and only German Shepherd Dog. A very light cream body color with blackish brown face and saddle, her name was Heidi.


I've never seen her color pattern ever again, nothing even close to it. She was a beloved family member who has never been forgotten. We received Heidi when she was almost a year old and we had her for 13 years.
December 6, 2009, I got my first GSD puppy, black with tan markings. As a 6 week old she stole my heart in seconds. As an honor I named her Heidi.
She was a quick learner and had a slight stubborn streak. Once she caught on to something she was persistant about it. Heidi was quick to latch onto a favorite toy, a stuffed little duck with a squeaker-honk. It was also her bed mate.
By the time Heidi was 8 weeks old, the day after Christmas, she appeared to be a healthy, happy and strong German Shepherd. The next morning she seemed fine and by mid morning her breathing became labored sounding.
Heidi was no longer her playful self though she did tried. She slept for awhile and still didn't sound good. After she woke up she had some water and wretched it back up, it was white frothy with blood. She had two more wretching vomiting episodes, all frothy with heavy pink.
Being a Sunday I made a trip of almost 30 miles for an emergency Vet visit. The Vet made a quick discovery in the intestines where a small portion had moved up inside itself with a small blockage. Emergency surgery had to be done.
Heidi received a shot for her pain and she was quickly resting quietly and sounding better. I gave her kisses and said I'd see her in a day or two and handed her off. I drove back home to wait for the vet to call.
In about an hour I got my call. Though her surgery went well,
the Vet said she was also having blood in and around her lungs which explained the blood in the vomited water. He was going to try some other medications and would keep me posted. He was very concerned. Heidi was just starting to wake up.
An hour and a half later the Vet called back. It was NOT good news. Heidi's breathing became far worse, they performed CPR on her 4 times, after that they just couldn't do any more for her and let her go. They did an autopsy on her and discovered a rare major problem that nothing could be done for to help.
A potion of a lung and the aorta (main artery to the heart) were wrapped around each other. Cutting the blood flow to the heart and causing blood to be inhaled into the lung. The aorta eventually ruptured and filled her chest cavity with blood.
The Vet said he'd never seen anything like it. He had read about it and heard of it but had never seen it before until then. It was a very rare thing to have happened and it was of nobody's fault. Heidi did NOT die while in pain. Overall the Vet said she was a beautiful animal and everything about her was perfect.
After fitful days and nights in tears and no sleep, I called the breeder today and she was also shocked over this loss. I explained what had happened. She had never heard of such a thing happening. We had never discussed health guarantees though she did offer to pay a large portion of the Vet bill.
Though little Heidi can never be replaced, the breeder offered to give me a new puppy. A litter that was a week and a half old and I can get another little girl the end of January/early February. Her coloring will be a lighter black and tan.
I will need the time for my heart to heal and begin to look forward to sharing my love with an extra special friend.