Marine "SGT Archie"
by A. O'Connor
(Walter Reed Bethesda Hospital)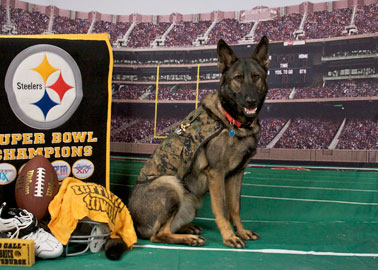 This is our Marine "SGT Archie" the Walter Reed Bethesda Hospital Dog. This is what he does during his off hours!
He and his DAD are huge Steelers Fans!
A. O'Connor
------
Hi! Merry Christmas! I thought you may like to see SGT Archie and his friends at work.
http://www.navy.mil/swf/mmu/mmplyr.asp?id=16607L
Total German Shepherd
:
Thanks for sharing all this about Sgt. Archie Amy. I really enjoy reading up on how he is doing and the video was a big plus. Thanks so much for sending in the info about Sgt. Archie to us. Keep it coming.