Martastor Von Lady.....A Princess Among Dogs
by Mary Pliska
(Phillips, WI)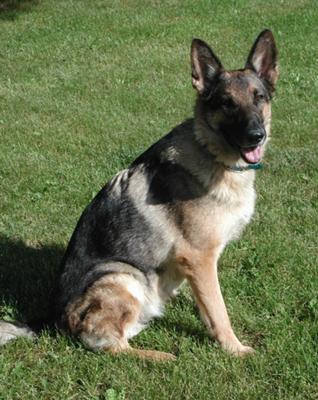 I always knew one day I'd have to say good bye to Lady, but it happened much too fast. After raising 5 children and seeing them leave, Lady was what helped fill my "empty nest".


She loved me unconditionally; was loyal and always had time for me. Nothing made her happier than going for a ride, a walk or just playing catch.
I noticed at times her legs seemed to be a little tired, but we all felt at 10 years old, it was too be expected. A week before Christmas, in her hurry to run down the stairs with her 4-year old daughter Jonny to go for a ride, her one leg gave out on her.
An X-ray showed bone cancer had caused a break that could not be fixed or cured. After many years, a decision was made to put her to sleep. I wanted her to share one last Christmas with all of us, but the vet said the best gift I could give her was to put her out of pain.
On December 16, after saying good bye to all of us, she went to Heaven. I love you Lady and miss you more than I can say. Jonny is trying to be brave and get on without you, but I know she misses you nipping her nose and watching out for her. Take care of our family that was already there to greet you. See you again one day!
Total German Shepherd
:
Mary, first of all let me tell you how sorry I am for your loss. It is so very hard to lose a wonderful German Shepherd but your memories will help you through it all and as you have shown us all here, your memories will stick with you forever and help through your grieveing process. Thank you so much for sharing your story about your German Shepherd Dog, Lady. I am so very sorry for your loss. What a wonderul dog your Lady was.
And to our readers, thanks so much for reading this story and please come back often to see what else is going on in our growing German Shepherd community. And if you get the chance please leave some comments, place a video of your own or tell us your own German Shepherd story in our sharing section. And come back often as things will change daily.
Let us know what you think about the above story by leaving some comments below. It's easy enough to do - just click on the link that says "Click here to post comments" and if you want to read what others have said you can do that too at the same place.