Meet 1 1/2 years old German Shepherd Calypso
by Michele Goodman
(Maryland)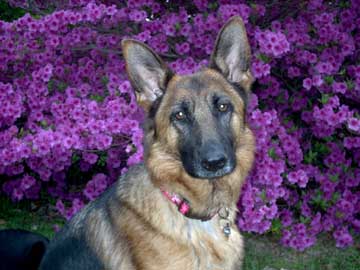 Meet Calypso!!! She is 1 1/2 years old.
I am a foster for a local GSD rescue and Calypso was pulled from animal control (they found her roaming the streets) by us.
When she was at the vet's office being spayed, she bloated. Lucky for her, the wonderful staff at the vet's office was able to save her.
I became Calypso's foster on April 2, 2010. On April 3, 2010 I knew I could not let her go. Calypso has one of the best personalities I have ever seen in a GSD.
She is so happy to greet everyone (and fellow canines!) she meets with a kiss. And what a smart girl!!
She has great obedience and loves to do the agility course. Calypso became part of my K9 family on April 11, 2010.
Calypso has seen alot in her short life--and now I will be able to show her what a great life can be!!!!!
Total German Shepherd
:
Hello to you today Michele. I really appreciate what you have done today by taking the time out of your schedule to come here and share your own personal German Shepherd story and picture of your beautiful German Shepherd Dog Calypso with us all here today.
She is so pretty and looks like she would have the sweetest temperament based on the photo alone. But thanks so much for rescuing her and dealing with all her health issues. You are both so lucky to have each other.