Meet German Shepherds, Eva and Phoebe
by Sheila M
(Ridgeway, WI)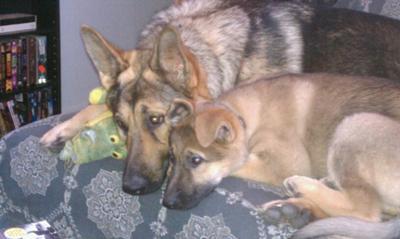 Eva was almost 2 when we decided it was time for her to have a friend. Our oldest dog, a husky/shepherd mix, is getting on in years, and he just couldn't play like he used to. We could see that Eva was getting frustrated, but we also worried about how she would react to a puppy.


Eva is very much a dominant female, and we didn't know if she'd take too kindly to a new baby stealing away her attention. We searched and searched for a breeder who had another sable, and it took us a few months to find one that had a reputation we could respect AND a puppy that was what we were looking for.
We brought Phoebe home the day after Thanksgiving in 2010, and watched as Eva approached her. She sniffed her from nose to tail, and then promptly began bathing her. For several weeks, she wouldn't let Deacon (our oldest dog) anywhere near Phoebe, even though he had never so much as lifted a lip in her direction.
Eva had decided Phoebe was HER baby, and they've been inseparable ever since. When we go to the vet, it has to be together...the one time we took Phoebe for a puppy check up and left Eva at home, Eva ate through a door trying to get to her. They eat together, sleep together, play together...we call them the dynamic duo (or the Beasties Two, if they're being naughty).
As Phoebe has grown, their antics have brought so much laughter into the house. My husband and I would be lost without all three of our furry children, but the personalities of Eva and Phoebe are almost human in their complexities and depth. Yes, the hair everywhere is a constant battle. Yes, we spend a lot of time working with them on being polite members of society.
And yes, they have cost us a fortune in home repairs and furniture replacement (Eva once expressed her displeasure by chewing apart a brand new queen size sleigh bed *sigh*). They've been worth every penny and anything else they cost us in their lifetime, though. They are my shadows, my cuddle buddies, and my guardians...they are family.