Meet Our 1yr old GSD, Artie
by Becky & Billy Fuore
(USA)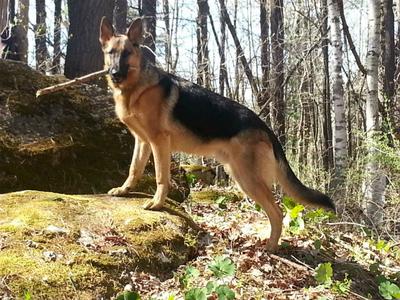 hiking in the woods
Here is our 1yr old GSD, Artie. We got him last summer after we had to put down our 8yr old shepherd. He helped heal our broken hearts as well as my 11yr old GSD.


Artie is so loyal and affectionate! We have gone through 2 obedience levels with him and now are finishing up his level 2 agility class which he loves!! When he is not in class he is usually hiking in the woods with us and his other canine friends!
Becky & Billy F.
Total German Shepherd
:
Hey Becky and Billy,
Thank you so much for sending in the story about your wonderful Artie. He is definitely one handsome young German Shepherd Dog.
I love the picture you have sent in. And good for you putting him the the training classes - that is wonderful. I wish more owners did it. Agility, obedience and all of that is perfect to exercise the dog and that developing canine brain too.
German Shepherd like nothing better than a job to do and being able to do it. Sounds like all the hiking and the training are Artie's jobs - besides being your best companion.
I wish you nothing but the best with him in the future and I hope you have many, many, many more years together with him in the future. Thanks so much for taking the time to share your German Shepherd Artie with us!