Meet Our 4.5 Yrs Old German Shepherd Bruiser
by Pamela D Squibb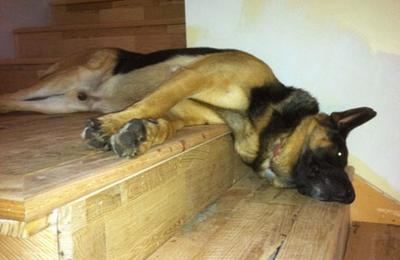 How does he do that? Ouch!
Hello,


I just stumbled onto your website. Love all the information! I'll be visiting again soon!
This is Bruiser, a 4.5 yrs old registered male, my best friend, Very obedient, loving, and intelligent.
He will chase anything you throw and will out-last you! He loves to follow me around the property moving tree limbs and branches to a pile.
This picture was taken just after we finished putting new stairs in our house. Bruiser is on the new landing, asleep, with his head on the step below. I catch him sleeping like this from time to time. I'm not sure how, looks so uncomfortable!
Pamela D Squibb
Total German Shepherd
:
First of all Pamela, let me tell you how much I adore that name Bruiser. I have often thought of getting an English Bulldog puppy and giving him or her that name because I just think it would be perfect.
Especially when the dog is obviously everything but a bruiser. But your big guy certainly fits the bill too I think! What a handsome dog.
And that picture - oh man - some of my past GSDs used to do that a lot and I always wondered how they wouldn't get a crick in the neck because I certainly would have in no time flat if I had even tried that. Amazing when you think of it.
Keep the great pictures coming in of your handsome German Shepherd Bruiser. And continued success with him. He is definitely a keeper!