Meet our GSD Mix Rescue, Miley
by Ashley Willingham
(Dickinson Tx)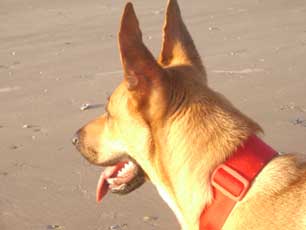 Hello, This is a picture of our 1 1/2 year old Miley (yes, like Miley Cyrus/Hannah Montanna).
We got her when a friend of mine opened her front door to an abandoned box of puppies! We couldnt help but rescue her.
She is not full German Shepherd, however our vet and anyone that comes in contact with her can't deny her breed. She is the sweetest and loyal dog I have ever owned.
She is natural at fetch and a PRO at catching the frizbee. Her favorite this to do is swim! We cannot keep her out of the pool.
She will swim with her head completely underwater to retrieve a toy, like a scuba diver! She will let the kids hold onto her tail as she swims them to the steps! We call her our "rescue dog".
She is such a playful puppy but is very well behaved and learns so easily! She loves her "necklace" (collar) and will spaz if it is taken off until it is put back on! She adores the beach and will swim out into the waves for her ball, mom, or dad.
She is quite the spoiled little thing as well. She has her own chair in our bedroom complete with an ottoman that she sleeps on every night until our first alarm goes on and she sneaks into the bed for some cuddle time like a child would.
Although she isnt a full breed she has led us to never want another breed of dog other than a German Shepherd! We love her, and hope you do too!
Thanks! Ashley