My 1 year old GSD rescue Emily
by Kristen Kastrinos
(Valley Cottage, NY)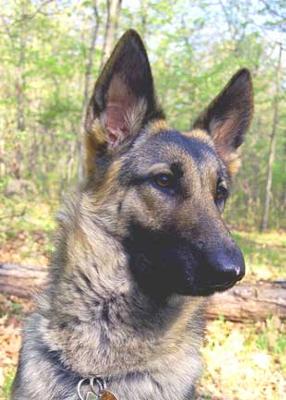 Hi! I'm including a picture of my 1 year old GSD rescue Emily.
I think she's beautiful and she likes to be outside to get her picture taken.
Thanks for your awesome site, I use it a lot for reference.
Take Care,
Kristen K
Total German Shepherd
:
Hi Kristen. And what a great picture of Emily too. Thanks so much for taking the time to come here and share your own personal German Shepherd story and picture of your beautiful German Shepherd Dog Emily with us all here.
She looks so sweet - nice photo. Beautiful. Did you take the shot? Or did someone else take this photo for you? Either way, it is a great photo of Emily. Nicely done - she so pretty! And lucky too!