My 10 month old German Shepherd pup is terrified of everything, especially other dogs.
by carol forrester
(glasgow scotland)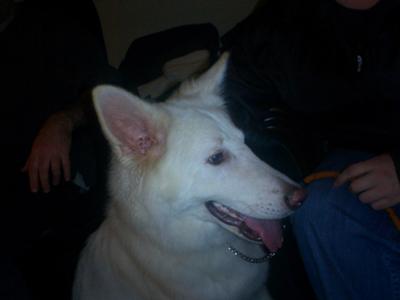 Sweet Molly
My new pup (10 month old) Molly is very scared of just about everything. Also she is very underweight. even if we raise our voices slightly she takes to her heels. She will not go into my fathers room unless I am leading her and even then she bolts the minute I let her loose.
She will happily be petted and is very gentle with my old dog and cats. When we are out though she does show panic and aggression towards other dogs even if they are a distance away. She is also very underweight, around 9 pounds but I am having difficulty in getting her to eat,especially dried foods.She wont even take treats.
How can I encourage her to eat more?. She has bonded well with us but I feel she has had a difficult background and want to go the right way to help her enjoy life. She doesnt even know how to play!.I would really appreciate any advice regarding this lovely dog.
I have been told that white shepherds have a genetic fault but I am hoping that this is nonsense. I am keeping her no matter what but as I say I want her to have fun and enjoy her life. She is very obedient (possibly too much). Thank you for looking regards carol