My 12 week old GSD Puppy wont go for a Walk!
by Lindsey Maiale
(East Norriton, PA)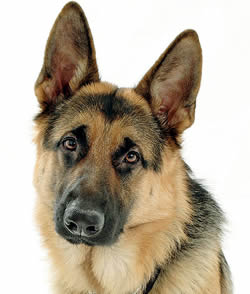 My GSD pup, Jake, simply WONT walk down my street with me. He is fine going out on the leash to go potty, as we have not installed the electric fence yet, but as soon as he realiizes that I'm trying to lead him down the driveway for a walk, he sits and wont budge. I have tried everything I can think of such as bribing him with treats and having my little brother walk ahead to call him to come, but he just wont walk!


This is really sad because my mom used to breed bulldogs, and they wouldn't walk either. Going for walks is one of the side-reasons that I have been begging for a German shepherd pup for 4 years now! And now that I have my dream, he wont go for walks.
I still love him to death, don't get me wrong, but I would LOVE for him to take a walk for me so I can burn some of the energy so he isn't so nippy and eager to play-fight with me. I hope someone can help! xoxo Lindsey
Total German Shepherd
: Hi Lindsey,
So sorry to hear about your German Shepherd pups unwillingness to go for a walk. Well, if I were you I would take him to the vet first just for a check up to make sure that there is no medical reason for his not wanting to walk.
And if the vet check is "all good to go - no medical problems" then I would ask your parents to sign you and him up for a kindergarten puppy training class. It will be the best time and money you will ever spend on your puppy at this young age.
Plus, the dog trainer can give you good suggestion on exactly what to do based on your GSD puppies actions. And you will learn how to make the puppy do what you want to do - basically the dog training class will train you how to train your puppy.
So good luck with your new German Shepherd puppy.