My 8 weeks German Shepherd puppy developing elbow calluses
by Padman
(Kuala Lumpur, Malaysia )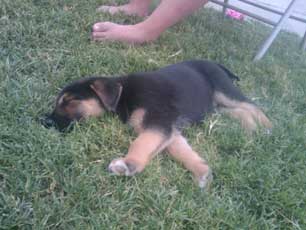 I have a 8 weeks old puppy (Schutzhund) which was brought to my home 2 weeks back. Initially Rotch (male) was having some anxiety due to the new environment but he well adapted starting 2nd week.


His weight was around 4-5kg (not sure - breeder didn't weigh the puppy) but after a week (7th week) he gained some weight to reach 6kg when the vet weigh him for the first time. He is growing very fast, after 3 days I brought him to same vet for de-worming and he gained additional 1.2 kg - 7.2 KG
Following the puppy growth chart, he is still under the threshold of right weight for 2 months old puppy (idle weight 8 weeks - 9 kg). But just past few days, I have been noticing he started develop elbow calluses :(
I'm not sure whether I'm feeding him a lot ( raw meet & kibbles) or this is due the hard surface ? I believe you have good experience in monitoring puppy weight and observed the their growth, I need your advice how to get rid of the calluses in best possible way and what is best weight for puppies.
Kindly expecting some reply from you.
Thank you!
Total German Shepherd
:
Hi Padman, Thanks for writing. About the best advice I can offer concerning the elbow calluses is to provider the puppy a thickly padded bed to lay down on as often as possible. This will help to hold the puppy up off the hard surface and provide your German shepherd puppies joint more support too.
Normally you don't see elbow calluses until the dog is much older and larger but if you can, give your GSD puppy a nice firm padded bed and that will help the puppy from developing even bigger elbow calluses. Plus, you might want to speak with your veterinarian about this on your next visit to see what your vet might suggest you try. Good luck!